You can reach people all over the world and sell more copies of your book by translating it into other languages. There are over 7.9 billion people in the world who know more than 7,000 languages. This means that translated books could reach a huge audience.
It's easier than ever to copy and sell your book in more than one language these days, thanks to technology. Professional translation services are out there, and you can also use e-book sites like Amazon Kindle Direct Publishing and Apple Books to self-publish your book in more than one language.
Benefits of your book translation
There are several reasons why turning your book into other languages is a good idea, such as:
Reach a global audience: By translating your book, you can reach people around the world, no matter what language they speak. This can make your book a lot more famous and help it sell a lot more copies.
Increased book sales: Most of the time, translated books sell better than books that are only written in one language. This is because more people might want to read translated books.
Increased popularity: If you're an author, adapting your book can help you get your work read by more people. This could lead to more chances, like speaking events, book trips, and deals for movies and TV shows.
Cultural exchange: Translating your book can help people from different cultures understand and interact with each other. People from other countries can read your stories and help break down walls and build bridges.
How to choose a professional translation service
For those who want to translate their book, it is important to pick a skilled service. A good translation service will have a group of trained, experienced translators who speak the target language as their first language. In addition, they will know a lot about the printing business and be able to make translations that are ready to be published.
It's important to think about the following things when picking a translation service:
Experience: The service that does the translation should have done Book Translation before.
Qualifications: Native speakers of the target tongue should be hired, along with people who are trained and have working experience as translators.
Quality control: There should be a quality check method at the translation service to make sure the texts are correct and of good quality.
Price: Translation costs can change based on the language, the length of the book, and how hard the words are to understand. Before making a choice, it's smart to get quotes from more than one translation service.
How to self-publish your translated book
If you publish your own book, you can also publish your translated book on your own. You can sell your e-book in more than one language on a number of sites, such as Apple Books and Amazon Kindle Direct Publishing.
When you share your translated book on your own, you should make sure it was translated by a professional. Also, make sure the copy is correct and of good quality by carefully proofreading it.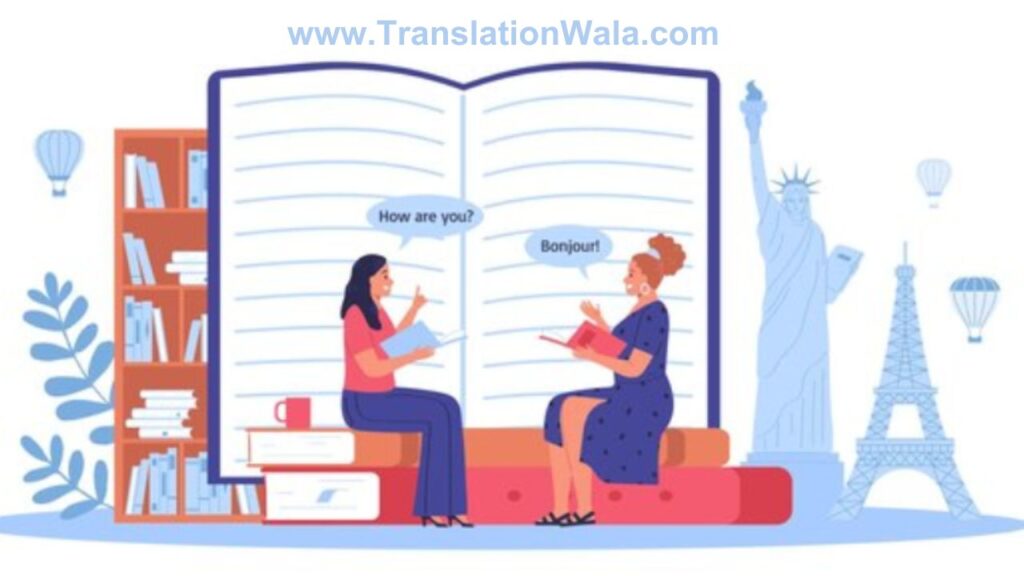 Also Read: Document Translation – The Ultimate Guide for Businesses of All Sizes
Marketing your book translation
It's important to sell your translated book to the people you want to read it. This can be done by:
Creating a website or blog for your book: Help people from all over the world learn about your book and meet with people who want to read it.
Using social media: Use social media sites like Twitter, Facebook, and Instagram to spread the word about your book. Of course, you can join online boards and groups that are linked to the subject of your book.
Running advertising campaigns: To reach the people you want to reach, you can run ads on search engines and social media sites.
Contacting booksellers and libraries: Tell bookstores and libraries in the countries you want to reach that your book is available in their language.
Here are some more tips on how to get your translated book read around the world:
Choose the right languages to translate your book into: Think about which languages will have the most readers for your book. Another thing you might want to do is translate your book into languages that people speak in places where you have a big online presence or where you want to sell your book.
Price your translated books competitively: When you price your translated books, you should think about how much other books in the same language and field cost. You might also want to think about giving deals to people who buy more than one translated book.
Promote your translated books on international book websites and social media platforms: Several websites and social networks for foreign books can help you get the word out about your translated books. You can reach people from all over the world this way.
Conclusion
You can reach people all over the world and sell more copies of your book by translating it into other languages. If you use the above tips, you should be able to find a skilled translation service, promote your Book Translation on your own, and get it in front of the right people.